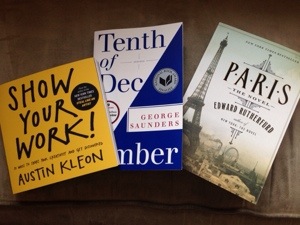 Stopped in at an independent bookstore today (yes! There is one within 20 miles of me!).
Since I had loved Austin Kleon's "Steal Like An Artist" so much, I immediately wandered over to the display of his work, including this one: "Show Your Work". After leafing through a couple of pages I knew I wanted it. So while I have the other one in Kindle edition, I have this one as a paperback.
"The Tenth of December" has been on my list for a while because, hey, short stories! And it has been winning prizes and every one is raving about it. that's not always a big selling point for me, but I like the things people have been saying about it, so we'll see.
The third one I picked up on a whim. It looks very literary and is set in Paris. 1 I don't have anything very literary on the go at the moment2, and I am going to Paris in July, I thought I'd give it a try.
---
So that's what's on the new reading list.
I have already started "Show Your Work", which is, in part, why I'm posting this. At one point he advocates sending out "a daily dispatch" from your creative life: if you're in the planning stages, share what's inspiring you; if you're working, share excepts etc.
So this is what's inspiring me today, among other things.
---
"Paris: The Novel", by Edward Rutherfurd. Now that I think about it, that definite article sounds a bit arrogant. And his last name is spelled unexpectedly, which seems pretentious, but probably isn't his fault. I shall try to overlook these things. ↩
I always have multiple books on the go at one time. Do you? I like to have different books for different moods… ↩