Online Projects
Since 2010, Julie has been running this extreme writing challenge for short story writers. Thousands of writers have taken part in the challenge, many going on to publish their first stories in professional magazines. Others have produced short story collections, novels, and other writing challenges and communities, inspired by their experiences during StoryADay. One of Julie's first StoryADay stories was published in a print anthology in 2013.
To support writers on their journey, Julie has produced a number of StoryADay branded courses, workshops, talks and ebooks made available through the StoryADay Creativity Lab.
To find out more about StoryADay May, and other events, sign up StoryADay News.
The 21st Century Publishing Update
Her first website for authors (2000-2004) was one of Writer's Digests 101 Best Sites for Writers in 2002, 2003. It produced a regular email newsletter that helped self-publishing authors find the best ways to self-publish, understand the changing book-selling industry and market their books.
In 2001 Julie published an ebook, The 21st Century Publishing Handbook, in partnership with Booklocker.com
Articles/Stories In Other Publications
Fiction
Non-Fiction
Writer's Digest Magazine online extra "Short Training For Your Long Game – Reading List" (Jan 2017)
Writer's Digest Magazine, Short Training For Your Long Game, Feature Article (March/April 2017)
DIYMFA Radio, Podcast, (April 20, 2016)
Flash Fiction Chronicles, 'It's A Mystery To Me', Genre Series
Flash Fiction Chronicles, 'Oh! The Horror!', Genre Series, (March 2015)
Flash Fiction Chronicles, 'A Funny Thing Happened On The Way To This Article', Genre Series (Dec 2014)
Flash Fiction Chronicles, 'A Brief Encounter With Romance', Genre Series (Sept 2014)
Flash Fiction Chronicles, 'Slipstream: An Interview with E. S. Wynn', Genre Series (Aug 2014)
Flash Fiction Chronicles, 'Science Fiction Is Big, Really Big', Genre Series (July 2014)
Flash Fiction Chronicles, 'Does Genre Matter: An Introduction', Genre Series (June 2014)
Writer's Digest Handbook of Magazine Article Writing, Contributor, (2004)
Writer's Digest 'Give Credit Where It's Due' feature article (Feb 2003)
DIYMFA, 'Finding Story Ideas', (2013)
WritingMysteryIsMurder, 'How To Write While Cleaning Your House' (2013)
InkyGirl.com, 'Four Steps To Writing Success', (2011)
InkyGirl.com, 'Podcasts for Writers' (2011)
InkyGirl.com, 'Want To Write? 18 Great Writers and Thinkers Show You How' (2011)
Write It Sideways, 'Short On Mental Space? 6 Tips For Busy Writers', (2011)
Women On Writing, 'Potty Tale: How Toilet Training Made Me A Writer Again', (2011)
Writer's Digest's Start Writing Now 'Ideas, Ideas, Ideas', How-to article for beginner writers, (May 2003)
TDMonthly, Industry trends and business interviews, 2003
Writers' Journal 'Beyond The Web, Part III', Online resources for writers article (2002)
Writers' Journal 'Beyond The Web, Part II', Online resources for writers article (2002)
Writers' Journal 'Beyond The Web, Part I', Online resources for writers article (2002)
Handbook Of Magazine Article Writing, contributing author,  (Writer's Digest Books, 2004)
Writer's Digest's Writing Success '3 Secret Sales Venues', alternate sales channels feature article (May 2002)
Writer's Digest Publishing Success 2001 'Get Your Book On The Shelf' feature article (Nov 2001)
Writer's Digest's Writing Success 'Micro-Market Your Fiction' How to market fiction feature article (Nov 2002)
FictionFactor.com ezine, 5-part series of tips for self-publishers (2002).
Writing-World.com 'Extra! Extra! Promoting Your Book' feature article (spring 2002)
1stBooks Library 'Promoting Your Fiction or Poetry Through Press Releases' (Dec 2001)
FictionFactor.com e-zine 4-part series on Print On-Demand Publishing (Oct 2001)
Ayr Advertiser Newspaper, Ayr, UK (1989-1994)
Montgomery News, Columnist, Pennsylvania (1996-98)
Interviews
Speaking Appearances
Brandywine Valley Writer's Group, StoryADay Live! Draft In A Day, Feb 21, 2017

AWP Conference, Washington DC, Feb 8-11 2017
Just Write, Collegeville, PA, May 3, 2016
StoryADay Live! Workshop, Dialogue, Main Line Writers' Group, King of Prussia, PA, April 20, 2016
StoryADay Live! Workshop, Hook Readers With Conflict, Wilmington Writers' Group, PA
StoryADay Live! Workshop, Hook Readers With Conflict, Main Line Writers' Group, King of Prussia, PA, November 18, 2015
StoryADay Live! Workshop, Complete Draft Workshop, Main Line Writers' Group, King of Prussia, PA, May 20, 2015
WANACon Feb 2014, Rock Your Revisions with Gabriela Pereira, Feb 21, 2014
Rock Your Revisions with Gabriela Pereira, MainLine Writers' Group, PA, March 12, 2014
DIYMFA LitLoft Online Conference, Speaker, Sept 2013
Writers' Room of Bucks County, Guest Speaker, Doylestown PA, 2002
DIY Conference at College Music Journal's Conference, Panelist, New York, NY, 2002
Infinity Conference, Keynote Speaker Valley Forge, PA,  2001
Philadelphia and Colorado Christian Writers' Conference, Speaker, PA, Aug 2001
FearOfWriting.com chatroom Guest Speaker,  2002.
Bay Area Writers' League, Panelist, Speaker, Houston TX,  2000
Writers' Room of Bucks County, Guest Speaker Doylestown PA,  2000
National Women's Press Club, Guest Speaker, Washington DC,  2000
Textbook and Academic Authors Association, Guest Speaker, Panelist, New Orleans LA,  2000
Philadelphia and Colorado Christian Writers' Conference, Guest Speaker, Panelist, PA,  2000
eBooks
Writing a story a day for a month is a crazy endeavour, but one that hundreds of writers have signed up for every May since 2010. During month of courageous creativity, writers learn how to write every day (not 'someday'), how to craft a story, how to write in different forms, how to fail and dust themselves off, and write again.
Are you ready to join them?
The StoryADay Month of Writing Prompts book shares the daily writing prompts for StoryADay May 2014: 31 writing prompts, meditations, lessons and pep talks to accompany on your journey to becoming a more prolific, creative and fulfilled writer.
Use these prompts during the StoryADay challenge, or any time you need a creativity boost.
Praise for the 2015 edition
5.0 out of 5 stars Kickstart Your Writing
By Sarah on July 19, 2015
This is a terrific little gem for writers whether you're just starting out or well seasoned. The prompts are fun, but more important, they offer you a chance to look at a situation from another angle. And Julie Duffy is a wonderful guide.
5.0 out of 5 stars A Wonderful Writing Experiment
By Martin Haworth on June 12, 2015
I had such a lot of fun with this. I suggest that anyone who has the slightest inkling of a capacity to write anything, should take this for a month and see what happens. It won't hurt at all and you will enjoy the challenge immensely.
Praise for The StoryADay Month Of Writing Prompts 2014
5.0 out of 5 stars a great asset
By Kim Samsin

… Julie has created these prompts and the supporting materials with the belief that everyone can write and that practice helps the process….she has created a guide that ushers writers of all skill and inspiration levels through the basics of story crafting.


The StoryADay.org Guide To Breaking Writers' Block
Writer's block can come out of nowhere. It can be temporary and related to one project, or it can be chronic, stopping you from writing anything creative. It is always painfully frustrating.
Julie Duffy, host of StoryADay.org, the month-long short story writing challenge, takes you through more than 60 techniques for breaking writer's block that have helped StoryADay participants become insanely productive writers.
Conversational and light-hearted, this powerful guide may just become your favorite new writer's handbook. $2.99
Praise for Breaking Writers' Block:
Breaking Writers' Block is just what I needed to finish my book., March 8, 2013
ByStatia
I would recommend this guide to anybody who is a beginner/intermediate writer. It arrived just in time for me.
Great breakthrough guide!, August 26, 2012
ByMary (Iowa)
I love Love LOVE this book. I read it once and then read it again. I love the suggestions. …There are so many wonderful options. I kept highlighting favorites as I read.
[…]
Truly – this is a wonderful tool. One that I am glad that I have to reach for when the road blocks get in the way.


The StoryADay.org Guide To Becoming A Better Writer
You know that little voice in your head that says, "Your writing just isn't good enough"? It's probably right.
But that's OK, because there is always something you can be doing to make your writing better (and that's as true for Junot Diaz as it is for you and me).
This guide to becoming a better writer is packed with tips, techniques and exercises you can use to improve your writing even when you're away from your desk.
With StoryADay's trademark brand of inspiration, practical help, and humor, this is your go-to guide for whenever your writing life needs a boost. $2.99
Praise for Becoming A Better Writer:
5.0 out of 5 stars Julie Duffy for the win! August 13, 2013
By ray
I just love Julie Duffy's Story a Day contest, and Iove her guide just as much. A must have for any aspiring writer, I'd recommend this book highly. :)
One of the greatest gifts of writing is connecting with other people; entertaining readers. And there's no faster way to connect with readers than by putting together collections of short stories and releasing them to the thousands of e-fiction fans gathering at Amazon and Smashwords, among other online retailers. Use this simple system to write your own themed anthologies and release them quickly, building your own back-catalogue and growing your own fan base. Contains my timelines; which services and software I use; how to create your own cover; my best practices for maintaining contact with with readers; marketing advice. $5 More Info…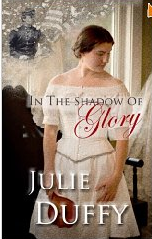 In The Shadow of Glory
He was fighting to keep the young United States from tearing itself apart. And for the first time in his life he had found his place in life: at the side of his new wife, Anne.
Torn between his love and his duty, will Robert find the courage to follow his heart?
Christmas Ornaments – Four Sparkling Seasonal Stories
Grab a warm drink, put your feet up for a few minutes and treat yourself to four sparkling, seasonal short stories that are bound to help you recapture some of the fun of the season.
Spend some time with the IPO billionaire trying to make up for a poor childhood and a nurse who longs to make one of her patient's Christmas wish come true even if she can't do it for her own son. Perhaps you'll giggle along with the tale of the old man who keeps being thwarted in his efforts to have a relaxing Christmas afternoon, or hold your breath as a young girl prepares for her role in the school Nativity play.
Each story contains some of the magic of Christmas, with humor and just enough sentiment to get you well and truly in the holiday mood. $2.99
Praise for Christmas Ornaments:
5.0 out of 5 starsI loved these stories December 4, 2013
By V. Miller
I really loved these stories. Julie Duffy's takes on the holiday season — from toy shopping in Manhattan to that all-important school Nativity play — is the much-needed break from your own Christmas chaos. This Christmas-themed story collection is the perfect stocking stuffer.

The 21st Century Publishing Handbook (2001)
Praise for 21st Century Publishing Update
…balanced information about POD is rare online (which is why I linked to your excellent series of articles)…
– Victoria Strauss, Editor, Writer Beware, Science Fiction Fantasy Writers of America
If anyone knows her stuff about self-publishing, it is you – a genuine pioneer in the genre.
– Sidney Allinson, Print On-Demand author, Jeremy Kane, Krueger's Gold
Thank you, thank you, thank you for your articles about print-on-demand publishing! They are concise, complete, unbiased and easy to understand.
– Pat Browning, Hanford, California
What A Terrific Discovery! I discovered you a few days ago … visited your site, subscribed to your letter, and have been completely delighted ever since. I just wanted you to know that your observations and analyses are right on target, as I see it, and I intend to rely on you for input and stimulation henceforth as I bravely push forward into the wonderful world of Internet publishing.
– Paul McNeese, Optimum Performance Associates
I appreciated your direct approach and candidness when speaking about this relatively new industry.
– L. A. Reilly, TERRACREATUS
Julie has made a commitment to informing writers of their options and answering questions regarding the many obstacles we face when launching our own works. Her endeavors have created a website that is not only user friendly, but an important tool every writer should often refer to…
…There is much more to explore in her pages, including a section entitled, RECENT AUTHORS' QUESTIONS where she responds with candid and insightful encouragement.
-FearOfWriting.com
I've just gone through your POD articles and have found them very useful.
– Dorice Nelson, author, The Gunns of Killearnan
Thanks for the education on PODs.
Dave Kaiser, Dhahran, Saudi Arabia
What a well written piece in such understandable language.
– Hance Persad, Trinidad & Tobago, Caribbean
Other Gigs
Genre Fiction Judge Writer's Digest Self-Published Fiction Contest 2002
Publishing Associate, Director of Author Services and Director of Special Projects at Xlibris, (1998-2001), the first company to offer print on-demand book publishing along with electronic distribution, directly to authors. Xlibris received a multi-million dollar investment from Random House in 2000.
Business writer – Clients include: Phoenix Karate, Attolon Partners LLC, Xlibris Corp., Ambrosia Catering, Sports Extra Inc., Net-Thing, Orange Cat Hair Salon (2000-2011)