If you're not a marketer, you might not know this, but Facebook is hiding things from you.
I won't bore you with the details (search online for  "page likes" and "Facebook algorithm" to hear the small business howls of protest), but Facebook has changed the way they serve information to your newsfeed.
What does this mean for you?Even if you have 'liked' a page (say a local business or a charity you support), you won't see all their posts in your newsfeed. You'll have to remember to click on their link to see their page and all their posts.
Which kind of defeats the purpose of the Facebook newsfeed, don'tcha think?
How To See What YOU Want To See
There is a really easy way to customize your news feed so that you see ONLY what you want to see, and you see EVERY post.
But it does require a couple of clicks.
(Another advantage is that you can corral all those quirky blogs you like to read but keep forgetting to check. Using the method below, you can have them all served up to you on one page, every time they update. No more 'losing' favorite voices online!)
Introducing FEEDLY
I use Feedly to slurp content from all my favorite sites and let me read them all in one 'news feed' at Feedly.com.
Here's what it looks like: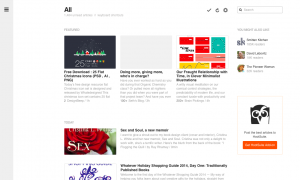 Say What?
The Short Story: You'll have to train yourself to check another site as well as FB every day,  to get the content you want. But it's worth it.
The Slightly Longer Story: Behind every blog is a stream of code called an RSS feed. (It stands for Really Simple Syndication, and its a way your browser can slurp all the content you want into one place. But no, you don't need to know any code.)
You tell Feedly what sites you like to have updates from, it slurps the content in, turns it into a pretty News Feed, and you turn up and read it.
(Yes, there's an app for your phone.)
Yes, you'll have to check Feedly as well as FB, but the upside is that you won't have to scroll through all the pictures of puppies and the political outrage of your casual acquaintances, unless those are the kinds of sites you like to read.
How Do I Use This Magical Service?
1. Go to Feedly.com and sign up.
You can use your Google account (if you have one) or your Facebook account, if you really want to hitch your wagon to the FB star.
2. Enter the address of the webpage of a blog/organization you care about.
Feedly will find the RSS feed on the page, if it has one. (Most sites use blog software for their news and updates, so it probably will).
For example, to see all the updates on this page, you can just type in 'www.julieduffy.com' and it'll subscribe you to this blog. To see every post from my StoryADay May challenge, type in 'www.storyaday.org' and it'll pull up that blog.
3. Subscribe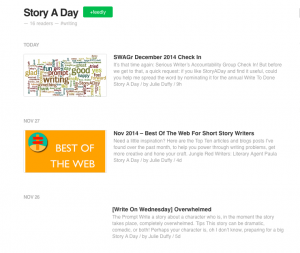 See that little green button that says "+Feedly"? Click it.
4. (Optional) Put Things In 'Collections'
A collection is like a folder, in old money. (Or a 'directory', if you're really old). This is optional but something you'll appreciate once you have more than a few subscriptions.
When you click "+Feedly" it will pop up a little window like this, which lets you add the site to an existing collection or create a new one.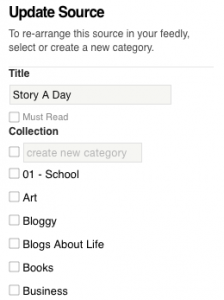 I have some collections called things like 'art', 'blogs about life' and, not surprisingly, 'writing'.
5. That's All, Folks
Ok, it's not all. There are lots of things you can do, like change the way you view the page, download an app, integrate Feedly with IFTTT and Evernote and suchlike, but for now? That's all you need to do.
How To Find The Addresses of Pages You Like on Facebook
Go to your Facebook Pages feed in the sidebar (and yes, you could just train yourself to do this everyday instead of using Feedly, if you're happy to keep suckling at the warm Facebook teat and are reluctant to emancipate yourself from their whims).
Click on the name of an organization you like. Click their 'about' page and look for their website address.
A Disclaimer
Many organizations have fallen into the trap of using only Facebook for their updates. Now is probably a good time to send them a note saying "hey, I've subscribed to your blog in my RSS Feed reader. Please remember to update the blog as often as you update Facebook, so I don't miss your news". You'll be doing them a favor, helping them assert their independence!
Some Sites I Follow