Kindles aren't just for books. People also subscribe to blogs on their Kindles. It usually costs around $1.99 a month (the price is set by Amazon) and is a great way to offer your content to all those people who woke up to find Kindles under the Christmas Tree/Menorah/Festivus Pole. When they subscribe, every new post you make is delivered to their Kindle (no need for them to remember to check your blog!). You are paid 30% of the fee Amazon charges.
Register With Amazon's Kindle Publishing Program
It is cost-free and simple to register with Amazon's Kindle Publishing program. If you do not already have one, you will need to create a vendor account, which is different from your regular Amazon account.  Read through the terms, because you are agreeing to obligations on pricing, content, timing and termination details. You will agree to terms for both the US and European markets.
At the end of the registration process you will be given a Vendor ID and Amazon will have all your payment details. You're in business!
Add A Blog

When you have finished registering you will be taken to you dashboard. Click the "Add A Blog" link on the top right hand corner. This is where you fill in all the information that will let both Amazon find the posts from your blog and send them to your readers' Kindles.
Filling In The "Add Blog" Page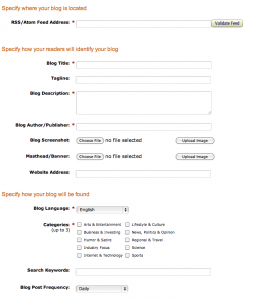 Find Your Feed
If you aren't familiar with RSS and feeds, don't worry. Most blogging platforms (not to mention Twitter and Facebook) use feeds to distribute your content. It's usually easy to findGo to your blog and look for the RSS symbol (possibly in the address bar of your browser) and click on it. It will take you to a page that has an address something like "http://yourdoman.com/feed". Copy that, and paste it into the first box on the Add A Blog page. Click 'validate feed' to make sure Amazon is looking in the right place for your blog.
Enter Blog Information
If your blog didn't have a snappy title before, now's the time to give it one. Your blog is going to be competing with thousands of others for Kindle readers' attention. Just calling it "Julie's musings on writing" isn't going to cut it. In fact, you might want to add a tag line too. (for example, the blog I listed is my Story A Day blog, aimed at creative writers. I use a tagline there that addresses a  'pain point' for my potential readers — aspiring writers who wish the could write more: "Write Every Day, Not "Some Day".
Blog Description
Make your description snappy and to the point. Tell the readers what they are going to get out of paying for your blog every month. What concerns are you addressing?
Screenshots & Logo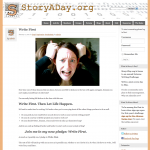 Upload a couple of pictures, one a screenshot of your blog and the other your 'masthead' or logo. People are extremely visual, but remember that most people reading on an actual Kindle device are only going to see these things in black and white. Try to keep the contrast high and the images clean.
Website Info
Very important: enter your website address! You want  your new fans to be able to find your website, don't you? You're not going to get rich selling Kindle blog subscriptions (unless you get insanely popular) so the whole point of publishing here is to expand your reach. Let people know where to find you!
Category & Keyword Information
Category and keywords are going to be very important in helping people find your blog.
If you don't know what keywords to use: steal.
Go to a successful blog online that covers the same topics as you. From your browser's toolbar select View / Page Source of View Source. A whole bunch of HTML will open up in a text window. Don't worry too much about it. Just look for the line that says "meta name="keywords" and then you'll be able to see what that site is using. Take your inspiration from that (don't actually steal. That was a joke.)
Language & Frequency
Select your language and tell Amazon how often you're going to post. Be conservative (you can update it later). If you are new to blogging and/or the sole author on your site, don't promise daily posts. Unless, of course, you have an airtight plan for how you are going to churn out seven awesome posts a week.
Almost Done
At this point you can save your work and generate a preview of how your blog will look in the Kindle store. (This takes a few minutes, and is optional)
If you're happy with how everything looks, press "Publish" and wait the 48-72 hrs they say it'll take to get you set up in the store (in reality it took less than 24 for mine to appear).
Tell People About Your Blog
Kindle blogs are listed by category. Within each category the default view is "most popular" blogs at the top.
Your blog, on its first day, is not going to be there. You're going to have to tell people it's there, so they can subscribe and help you move up the charts.
To find your blog: Go to the Amazon store and search for "Your Blog Name" and the word "Blog". This should bring you to your blog's sales page.
Copy the address (use an affiliate link if you like) and then go forth and promote.
Good luck!