My boys rolled out of bed on the right side this morning, cheerful and compliant and ready to go before it was even close to time to start screaming at them that they were late.
K was cheery and well-rested — shades of the dreaded morning-whistling-K I remember from our early years together (shudder).
I, instead of faffing about, showered and dressed and set out for my writing garret before the clock struck 9.
When I stepped out the front door, the sky was a lovely dull gray, the light not too bright for my weak blue eyes, not so dark as to be ominous. The temperature was hovering somewhere around a cool 52 F and, oh joy of joys, it was spitting. Not a miserable kind of drizzle that soaks you without even trying, but a sort of cheerful plinky rain that a light jacket can ward off and that serves mostly to keep you cool on your walk and to make the fallen oak leaves smell amazing.
My town is dull and cool and full of the smells of autumn. I stomped along the street with a big stupid grin on my face and arrived at my garret pink-of-cheek and crazy-of-fringe.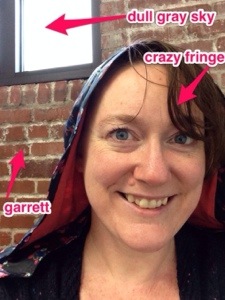 I really never should have left Scotland.