You know I love a challenge.
It's going to be harder to write during the summer months, with boys underfoot and trips to here there and everywhere (bonjour, Bretagne!), so I'm going to spend my summer months feeding the creative monster.
I've been finding it hard to write recently, partly because my brain is begin pulled in fifteen different directions. I'm feeding it with information — about education, about fitness, about nutrition, about cognitive behavioural therapies, about music, about all kinds of practical stuff — but I'm not feeding it with the kinds of stories it needs to lift itself out of the everyday world and into the world of stories.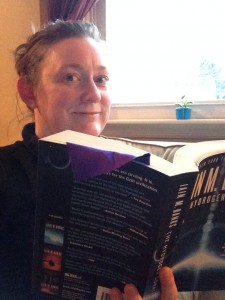 So I'm going back to the Bradbury Method of creativity-boosting. I did this last summer and it worked like a charm: I read a new story every day (and an essay and a poem as often as I could manage that) and found myself drowning in ideas. I had a burning urge to write; I sketched out ideas for stories; I wrote some of them over the next six months and released them as Kindle ebooks that have sold actual copies and generated actual profits. I have others that are still in various stages of drafting. But more than all that I was happy.
So that's what I'm going to do: Read a short story a day during June, July, August and you can follow along by pointing your RSS reader here:  http://www.julieduffy.com/category/read/ (I use Feedly on my iPad, phone and computer to keep up with the feeds of blogs I love. I highly recommend it. remember the old Livejournal friends view? It's like that. Or the Facebook status update view without, you know, Facebook). Or you can Subscribe to Julie Duffy Reading (& stuff) by Emailand get a daily update of all my reading-related posts (some days it'll just be the title of the story. Some days it'll be a potted review, and frankly it might get kind of annoying, so use this method with caution).
And feel free to join me. Leave comments, link to what you're reading, start your own Reading challenge and blog…