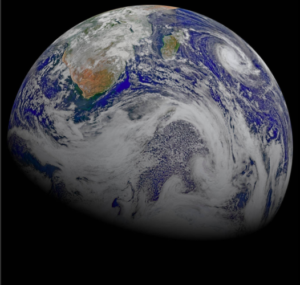 This story was written as part of StoryADay May 2017. It is being posted here as part of our annual StoryFest Showcase. It will soon be available in an audio version via the 999 Words or Less Podcast. Special thanks to author Phil Giunta, for the opening line.
Whatever happens, don't die. See you Monday.
#
The note was tucked under a button-cover on the instrument panel.
#
The air pressure settled with a hiss. Unlatching my helmet, I wished, as always, that I had got rid of the 'glamor girl updo'. Next time I'm shaving my head, no matter what the contract says.
The single viewport in the control room was my only window into open space. It had been three weeks and I was ready to drink it in.
But first, the light of the departing shuttle's engine-burn had to fade. As it did, I squinted against the white-bright glare of the shuttle as it filled my viewport. I turned to watch the last unnatural shadow I would cast for a week creep across the panel behind me. When I turned back, the craft carrying the crew of the Opticorp Satellite Rotel had slid from view.
I was as alone as it is possible for a gal to be, in 2172.
#
Who signs up to be the lone caretaker of a between-bookings space hotel? The same kind of person who used to want to be a lighthouse keeper. A person comfortable in their own skin. A person at ease in their own brain.
People like that—people like me—make other folks uncomfortable.
And so we wall ourselves up in hermitages and lighthouses and libraries. Or we set out to circumnavigate the globe alone on foot, in coracles, dangling in gondolas from balloons, in prop-engined aeroplanes, strapped atop experimental rockets, or tucked inside the planet's first permanent orbiting hotel.
#
The note was a joke, of course.
In all the PR materials they make it sound like important work: personing the station while it's empty. In theory I'm all that stands between the company's massive investment and an unforeseen disaster. The PRers even created a dramatic simulation of my digital double spotting some flaw and heroically correcting it just as the next batch of high-paying tourists pull up at the docking port.
Fake headlines spiraled in: Disaster Averted! Lone Hospitalitynaut Saves Station! Heiress Proves Her Worth!
Oh, didn't I mention? I'm, like, the most famous person on (sorry 'off') planet Earth.
I'm Gaia. Yeah, that Gaia. No other name required, right? Daughter of Alandria Flores, the mega-trillionaire and former President of Pacifica. First quad-parented baby in history. Scrutinized, analyzed, and sometimes-fictionalized every moment of the past 24 years.
I'm good PR, but I almost didn't get the gig. Alandria was putting some serious pressure on the company to block me, so her assassination couldn't have come at a better time. For me, I mean. She was in the middle of an election loop, so it wasn't great for her—on many levels—but when she went up in that column of smoke, at least it meant my dream didn't have to.
I know. That sounds harsh, right? I imagine some of you have relationships with your various parents that are a little more nourishing than mine. I've read novels. I know it happens. I just can't imagine what that would have been like with Alandria. I mean, let's be honest. Can we? You knew that face. The set of her jaw. The way she calculated every move ten places further than everyone else? If you were a citizen of Pacifica she probably cared more about your welfare than she did about mine.
I'm not bitter. Just trying to explain how I can be so casual about watching my Primary Parent vaporizing on a livefeed.
Anyway, it worked out for me.
And no, in case you're wondering, I had nothing to do with it.
But the 'grieving daughter' bit did play well for the cameras, and you can't think that Opticorp hated that.
#
But you probably know all this. You've probably seen the documentaries.
So why am I writing this down?
Because it amuses me to think of an alien—either from another region of space, or a human so far into the future that they might as well be—finding this and reading my story, in my words. It's an exercise in figuring out how I would present myself to someone who doesn't know who I am.
It's not an opportunity I've ever had. How am I doing?
Plus, I have about 167.5 hours to kill until this caretaker shift is up.
#
Whatever happens, don't die. See you Monday
#
It's a joke from the Chief Steward. But it's a joke in more ways than one, because if anything did go wrong there would be almost nothing I could do, and less time in which to do it.
So why am I really here?
From the company's point of view: PR.
And from mine? Well, let's just say I put up with the 'glamor girl updo' clause in the contract because of the other clause. The one that says 'no cameras, no livefeed' while I'm on board.
#
Sometimes, the Steward told me, the guests take one look out of the offside viewports and that's all they can handle. They think they're looking at nothing. They slam the shutters down and spend the rest of the trip with their eyes fixed on Earth—a place they've mortgaged themselves to escape, for one expensive week. The vastness of it is too much: too empty or too full; too limitless or too oppressive. They feel too small.
Me? I spend my weeks here looking only outward, into…everything.
And one day soon, when Opticorp's finished testing their long-range voyager, and are looking for the first woman to travel beyond the reach of human communication, you can guess who'll be standing on the launch pad, helmet-in-hand, looking up.
###