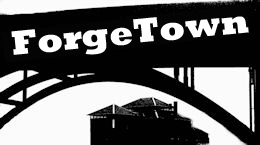 "Kids? Kids! Wait!"
Kath Rodriguez struggled to shift the bags around her feet and untangle herself from her knitting so that she could get out of the car and make her entrance on to her new street with some dignity. It hadn't been a long drive from the hotel but knitting calmed her nerves: the more complicated the pattern, the more she forgot about outside stress. She had selected her most complex work-in-progress for the 20 minute ride. Some people medicate, she would joke when people commented on her habit. Or pray, said her grandmother's reproachful voice in the back of her head. Kath rattled off a quick mental "Perpetual rest…" and aimed it upwards (Happy, Gran?) and, at last, stepped out of the car.
"Kids!" she hissed, seeing no sign of her wayward children. She was not about to start yelling for them. Who knew what time of day it was acceptable around here to start yelling at your family? Back in Waterville there had been a 24hr dispensation, but she had had friends from neighborhoods where no-one would ever have dreamed of sticking their head out the screen door and simply hollering. She didn't know yet which kind of neighborhood this was and if she was going to have to play stay-at-home mom here, she didn't want to be causing all the blinds to twitch on the first day. And yes, I've already spotted you, Nosy Nora, Kath thought, deliberately not looking up at the top floor of the split-level across the street.
"Witnesses!" Don stepped out from behind the steering wheel and stretched, winking towards the neighboring house. He waved cheerily at the old woman peering out through her blinds. "We'd better take her some of your mom's famous shortbread later to butter her up."
"Don!" They'd only been here five seconds and already he was making her blush. Don turned his Irish charm up and gave her his best cheeky grin.
"Let's give her a show," he said. He danced around the car, slipped his arms around her and planted a long, lingering kiss on her lips. She managed to endure it somehow, but swatted him away when his hands started to creep down over her shorts.
"Welcome to Phoenix Street, Mrs Morris," he whispered. "And thank you."
"That's Ms. Rodriguez, to you," she said, pushing him away, smiling. "We should probably rescue the movers from the curiosity of your offspring."
"Oh, they're mine now, are they? And here I thought they were yours."
"Only when they're good," they chorused together and laughed.
From the window across the street Mary Szabowski watched her new neighbors pull each other hand-in-hand up the driveway to their new home. Were we ever like that, John and I, she wondered. It was all so long ago. But yes, they'd had their moments.
The old woman closed her blinds with a snap — they kept the morning sun off her TV set — and shuffled herself towards John's recliner. If he could see her now. And, with a  sigh for the mixed blessing of the massive heart attack that had carried him off before either of them had started to fall apart, she sank down and flipped on GMA where stick-thin blondes with arms that spoke of hours doing battle with gym machinery, gave her advice on how to live a better, happier,  more fretful life.
The indignities of age, she reflected, were quite possibly as nothing compared to the indignities of being young in this post-feminist world of Botox and Brazilians. Mary patted her walking frame before giving herself over to the comforts of Colin Firth on the couch with Savannah.
---