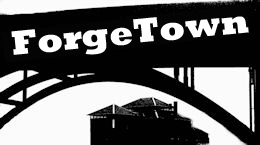 "Kath Rodriguez, nice to meet you," Kath managed, letting go of Robbie's upper arm and taking the firm grip of the grey-haired man who had walked over to where their two yards met. You could see where his property ended: it was a bright been line that spoke of chemical fertilizer, deep waterings, militarily precise mowings and, probably a quiet desperation about the state of the grass — you couldn't call it a lawn — on her side of the border.
"Joe Kaczka," the main said, shaking her hand. "But you can call me Duck. Everybody does."
"'Duck'! Well, hello Duck! That's my husband over there, Don Morris," Kath watched for the raised eyebrows ,but Duck's face was a mask. "And this is Robbie. Morris," she added after a moment of hesitation.
Robbie, seizing the moment, had started to make a break for the relative safety of the back yard.
"Robbie!" Kath called. The boy's steps faltered. Kath added a special edge to her tone. "Robert Julio Morris. Come back here and say hello to our new neighbor, Mr Kaczka."
(Kaz-ka. Kaz-ka,Gray hair. Number 6. Flag in the lawn, military air. Kaz-ka, equal stress on both syllables. Call him Duck.)
"Hello Mr Kaczka," Robbie mumbled and Duck shook his hand solemnly as if greeting a great man. Something flickered across Robbie's face.
"And what do you think of the place so far, young sir?" Duck said, giving his full attention to the boy.
"It's bigger than our house," the boy said, only he pronounced it 'biggah' and 'hahwz'. "I mean our old house."
Duck looked up at Kath.
"Boston?"
"Just outside the city." Kath said. "Is it that obvious?"
"Well," Duck said, "Most people around here have been here so long — my mother spent her whole life in the same house — so we notice when a person has an accent."
Kath noticed that he said and "l-wong"  and "hee-ouse", and painted her smile on more firmly. No accent, my foot.
"That's a really tall flagpole," Robbie was saying, staring up at the fluttering flag.
Duck's chest puffed out just a bit and he turned to follow Robbie's gaze.
"Yes it is, son. I raise the flag at sunrise every morning and retire it at sunset every day."
"Why?"
Kath watched as Duck stared first at Robbie then quickly at her and then back to the flag.
"Because that's how we honor our flag and show our love for our country, Robbie…or do you prefer Robert?"
Robbie blinked.
"I dunno," he said. "Either, I guess."
"A man should be in charge of his own name, young man." Duck crouched down so he was at Robbie's eye level. "You decide what you want to be called and then you just keep insisting on it until people they go along with it. They'll respect you for it."
Kath watched this little scene and realized her mouth was open. She snapped it shut. Robbie, too, was staring at Duck.
"But you're called Duck," he said. Kath choked off a laugh when she realized Duck wasn't joining her.
"Yes I am, son. I am indeed. It's what my last name means in Polish. They called me that in the service and I'm proud to use it now. Everybody in town knows me as Duck, but you'll note that I told your mother to use the name. That makes it my choice and that is what makes all the difference.
Kath and Robbie (or was it Robert?) came separately to the joint conclusion that there was nothing to be added to this curious sermon. Duck slowly straightened up from his squat.
"Perhaps, if your mom and dad say it's OK," he said, but his eyes never left Robbie's face, "you can come over some time and help me with the flag ceremony."
Kath watched the glowing face of her younger child. Hook, line and sinker, she thought, and braced herself for the onset of another of her son's serial obsessions. Flags and patriotism? Well, it could be worse.
---