I'm working in my garrett today.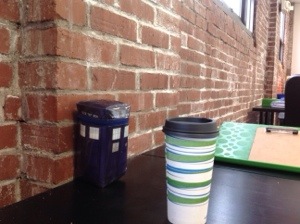 I highly recommend seeking out some cheap co-working office space to rent if you are trying to take your writing seriously and have the means. I also recommend biting the bullet and taking as little stuff with you as you can get away with. There have been days when I haven't come here because I'd "need" all the notes I've been gathering for four years about the novel-in-progress, or because I think I *might* want to work on admin tasks that really call for the big computer, or, or or…
What happens, when I actually get here, is that I pick a task (a short story or a blog post series or the novel or some outreach to potential interview subjects) and I work on that thing. Until it's done. Or until I run out of time.
Can you imagine?
I focus on one task.
And can you guess what happens next?
Stuff.
Stuff happens. I achieve things. Word counts grow. Ideas are put into practice. Progress is made.
#HeadsDesk
So the family might not get a lovingly slow-cooked dinner tonight ("Oh, squirrel! I could make keema in the slow-cooker. Then I wouldn't have to worry about dinner later, only I don't have beef, so I'll just run to the shop and buy that and mix all the spices and put the keema on before I start writing and oh! 'Nother Squirrel! I could whip all the sheets off the beds and put them in the washer before I go, so that they'll be ready to go in the dryer when I get back. Look at me! I'm so efficient! That'll leave me lots of guilt-free time to write. But before I do any of that, let me email the tax lady, find the tax documents and call the doctor, just to clear those things off my to-do list so that I can have a guilt-free time to write. And squirrel! Wait, how did it get to be 2:44pm and why are my children coming home soon?")
Instead I am at my paid-for-and-potentially-peopled-by-other-working-folks garrett, thinking about how much I pay per minute to be here (not really) and how I should really be thinking about doing something writing related if only so that, should someone else ask me what I'm working on, I can smile and be honest.
And yes, this blog counts. It's my warm-up writing, my Morning Pages.
Now, back to the long-overdue novel-in-progress.