I'm gearing up for the StoryADay May challenge for 2014 and writing a new ebook as I go along. How? I'll show you (cue: John Hammond whisper)
For the past few years, at the urging of challenge participants, I've provided writing prompts every day during StoryADay May. Every year I vow to be ahead of the game and write them all out before May starts. Usually I get a couple of weeks in and then spend the latter part of May scrambling to catch up.
Last year I did a thing where — again, prompted by participants — I put out a week's worth of prompts ahead of time, so people could plan their writing week. That was a bit better than my usual scramble, but I still did a lot of the work during May.
This year I have resolved to not only have the full months' worth of prompts available before May begins but to release them as an ebook that I can charge money for. (Money is a lovely carrot that I dangle in front of myself to make LazyMe follow through on some of my good intentions. I'm not hugely motivated by money, but since I'm planning on putting in all this work, it'd be nice if I could get a little summin-summin to help pay the for web-hosting costs, the domain registration or my upcoming photo session with Nathan Fillion at Comicon – swoon…)
The Process
Here's what I'm doing.
Step 1: Mindmap
I have a mind map of all the topics for each week (OK, most of them). Doing this first helps me set themes for each week, see what I'm doing, what I'm missing and what I shouldn't spend time writing about on Day 1 (because I know I'm going to cover it on Day 4).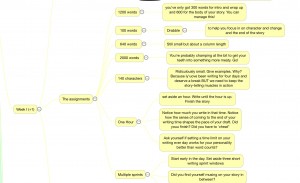 Step 2: Write The Post
I have a template in place for prompts, which I'm using as a framework for each post.
It goes: preamble (sometimes), The Prompt, Tips, "Go!" along with possibly a reminder to comment or post in the community.
Once I've written the meat of the post I'll take some time to schedule the post for the appropriate day (posting just after midnight) and I'll add it to the /inspiration/daily-prompt/may-2014 category so that my Mailchimp's RSS-to-Campaign feature will pick it up and send it out to all the people who have signed up to receive prompts by email. Nifty!
If I'm really smart I'll remember to add tags ('writing prompt' and something context driven) so I can find and link to them again in future when I am writing similar prompts but want to give my audience more options.
I might even find an appropriate Creative-Commons photo on Flickr to illustrate the post AND write an SEO-keyword-laden excerpt. In the interests of getting an ebook out, however, I'm not doing that on this pass. (None of that stuff will go in the ebook and it's all stuff I can do in the last few days before the challenge when my brain is fried and we're taking the inevitable roadtrip/having visitors/enjoying Easter/whatever-the-hell-else April/May can throw at me this year.)
What I really want to do is get to the next step.
Step 3 – Scrivener
After having finally watched some videos on how to use Scrivener properly, it seems to me the perfect vehicle for putting together a non-fiction book, even if I can't make it work for fiction. So I'm using it for that, with the expectation that, at the end of the writing phase I'll be able to quickly go through each file and make sure I've been consistent in format. Then I can add introductions to each week and maybe some introductory/conclusion material, and then use the built-in 'compile' feature to turn out a nicely-formatted ebook for quick upload to Amazon, Smashwords and my site.
Method: it's pretty clunky, but I'm writing each prompt in the WordPress window, adding scheduling and tags and then  cutting and pasting each day's text from the blog into Scrivener. It's working for me, for now.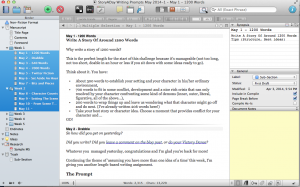 I'm really only posting this here so that, if I try to do this again,  I'll have some record of how I did it, but if you're reading this and you're not Future-Me, then I hope it helps you with your own "Blog To Book" project!