One of the reasons I write is to get the ideas out of my hamster-wheel brain and into some kind of organized form.
It's one of the reasons I like writing non-fiction. Fiction is a blast, but non-fiction feels like solving a puzzle.
MIND MAPS AND SOMETHING MORE
When I'm in the early stages of a project, I'm a big fan of the mind-map. You know, those big spidery diagrams that allow ideas to spill out of your brain in any direction, and land, semi-bundled, on branches on the page.
Usually, that's enough to keep me on track.
Today I was working on an article and I felt I needed something a little more structured, but I can't get behind a simple list. Lists just feel so…linear. And un-visual. (That's not a real thing, is it?)
I've been taking notes in Penultimate — the Evernote hand-writing note-taking app. I discovered, when I clicked 'new note', that they offer a 'storyboard' template, along with their ruled pages and blank pages and dotted pages and all kinds of other templates.
So I gave it a try.
And now my article is neatly divided into four sections with goofy sketches a the top to remind me what each section is meant to be about.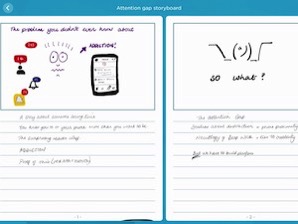 Now I'm thinking that might be a better way to go for my novel revision, too.
A CHANGE IS AS GOOD AS A REST
I've heard people talk about storyboards before, but I could never see how I, a non-artist, non-film-maker, could make them work for me. I've been around long enough to know that if I try something just because it sounds cool and new, my productivity drops off while I learn the method, then it may never be a method I need.
But sometimes I get kind of stuck and need to try something new. That was me, today.
I was faced with the prospect of being overwhelmed by a wall of notes. Creating these storyboards, complete with sketches, helped me signpost my way through them.
FORCING IT VS. FINDING IT
Sometimes forcing something new into your process slows you down. Sometimes trying something new reinvigorates your process.
Today's experiment was a win.