So, I have this deadline. It hits in exactly two weeks. I have to finish a readable draft of the novel I've been tinkering with since Nov 2010, and send it off to my critique group.
Finishing a novel seems like such a huge, unmanageable task that I keep putting it off. Every time I started on it, without the deadline and the critique group, I got overwhelmed at the idea of all the things I had to fix and finish.
With the deadline, I've been able to force myself to solve problems and make notes and plan scenes and push myself to figure out how to get them written even when I don't feel inspired (or as if I know what I'm doing). There are lots of resources that have helped me, but the most important thing I've discovered: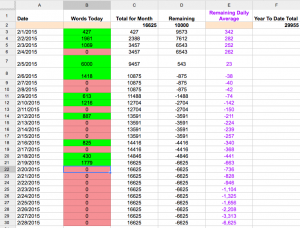 Doing any writing, even a little bit at a time, helps me get closer to the end.
Fancy that.
This is a lesson I've learned from knitting. Even if I only knit one row a day, I"ll eventually get to the end of the project. The biggest thing I've ever knitted turned into a manageable project when I sat down and figured out that I had to knit four rows a day every day between then and October to get the thing done. And then it wasn't scary any more.
So.
I've been planning out the scenes I need to write. I'm still far from being done, and I feel like i'm not getting anywhere, but when I look at that chart up there I realize that yeah, I'm getting stuff done. 29,955 words so far this year.
Wish me luck with getting that first draft ready in two weeks!