1. Buy the app, if you haven't already. (It's by Occipital, and it costs $1.99 is free in the app store.)
2. Run the app. Select the little lightning bolt in the bottom of the screen, to start the scanner.
3. Before you point the phone at anything, flip the little switch at the bottom of the screen that defaults to "multiple off" (this will make the process faster. If you do not do this, the phone will stop and try to look up every item as you scan it. What you really want to do is simply collect a list of barcode numbers. 'Multiple on' mode does that.)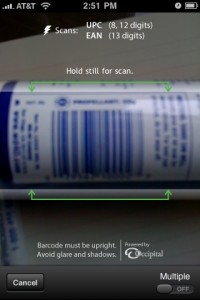 4. Now grab your book and flip it to find the barcode. Turn it so that there is no glare or shadow on the barcode and hold the phone a few inches away from it. Position the arrows so that they bracket the main part of the barcode. They should turn green. Now hold still and the phone should chirp or beep or buzz, to let you know it has scanned it. A series of numbers will appear under the picture, which should correspond with the numbers under the barcode. 1
5. Scan your next book. You'll hear the beep/buzz (depending on whether or not your speaker is on) and the numbers under the picture will change.
6. Repeat this as often as you like (I would recommend doing a trial batch with four or five numbers the first time).
7. When you're ready to stop, click "Done" on the bottom left of the screen. This takes you to a list of 'scanned items'.
8. Click on the 'arrow in a box' logo that means 'send me somewhere else' on your iPhone. Then, email the list to yourself.  (this step is necessary becaus I could not find a way to simply copy and paste from this screen).
9. Open your email program, find the new email, and copy all the text from the body. Don't worry, Library Thing is smart enough to realise that the list numbers before each barcode number can be ignored.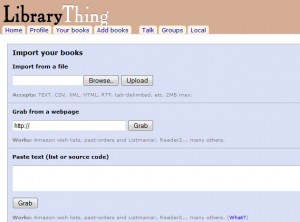 10. Open LibraryThing.com's upload page 2. Paste your list into the "paste text" box, press 'grab'. Go and do something more interesting while LibraryThing.com looks up all thei nformation and adds your books to your library. It puts them in a queue, so it's not instantaneous, but they will be added. (It also allows you to add a batch of tags at this stage, so its not a bad idea to scan all your mysteries together and all your kids' books in a batch).
Tips for getting the scan to 'take': I lay books down on a table and held the phone in two hands above them. This eliminated the crazy shake I seemed to develop every time I used the app. Also, if you are having trouble getting it to see the barcode, try angling the phone towards and/or away from the book slightly. ↩
This tutorial assumes you already have a LibraryThing account and have logged in ↩