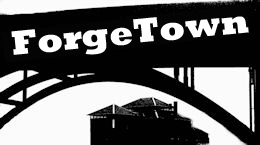 Picture the scene: the movers have left, her husband has left to keep his appointment with the priest, and the children have bolted for their new rooms to look at their new view (Robbie) and tear into boxes filled with their most prized possessions — deeply lamented during the ten whole days of internment at the Homewood Suites five miles down the road (Stella).
The living room was free of boxes but only because every other room wasn't. The kitchen table, looking lost in the middle of the large dining room, still held the crumpled aluminum cocoons that had disgorged te Philly Cheesesteaks, mainly because Kath had yet to locate her trash can and had told the kids that ("just this once") they could go without clearing the table.
Now that the familiar bits a pieces of her Massachusetts life were here in the new house, something broke inside Kath. She was really going to live here. They had really done this.
The weight of it… Kath cast around for a metaphor, but the only thing she could come up with that matched the dense mass that now lay in the pit of her stomach, was an image of the tragically home-made birthday cakes her mother had attempted every year of her childhood until Kath had been deemed old enough to touch the oven and had taught herself to bake. Her mother's cakes had been lumpen, lopsided things that had topped out of the cake pan and onto the serving plate with a clunk heard 'round the neighborhood. "Uncle" Tony would pop his head out of the kitchen window next door and yell, his face mere inches from their own window, "Grab your hammer and chisel, Maria! Carla's been baking again."
Kath closed her eyes and pictured it. Uncle Tony reaching across the tiny alley between their houses. Carla grabbing the much-maligned cake by one charred edge, as if it was a frisbee or, more accurately, a hockey puck, and making as if to wing it through the two windows and possibly cause Tony a concussion.
Who would Kath have, here, to throw pastries at through windows? She didn't know a soul and she couldn't imagine that these nice, sweet Pennsylvania small town folks were the bakery-flinging types. Not to mention that it had to be a good 24 feet to the closest neighbor's window and she wasn't sure her aim was that good. Were her children doomed to grow up without crazy neighbor stories? What kind of an upbringing was that?
Kath pressed her knuckles to her mouth to stopper the ridiculous sob that surprised her as she stood in her new home contemplating its cake-winging potential. Her hand went to her pocket to call Gina to tell her all about it, but Gina was 600 miles away. How long could she rely on her long-distance friends for comfort? Aborting the maneuver, Kath instead jammed her hand in the pocket of her capris. She would just have to make it work, that was all. They may not be her people, but surely there had to be some potential friends here in the wilds of small town PA.
And with that, the doorbell rang — a singsong chime, tinny and metallic.
"That'll be our new doorbell," Kath said to no-one in particular. "I don't like it."
She added 'new doorbell chimes' to the impossibly-long mental to do list and tiptoed cautiously towards the door.
---