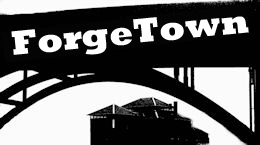 The heavy wood and glass door would have been magnificent it if hadn't been sandwiched between an ugly louvered-plastic storm door on the outside and a set of yellowing lace curtains on the inside. But for all the church's theoretical wealth it was, at the grass roots, the charity it claimed to be on its tax filings. There was little of what Don's father would have called 'liquid assets' for such frivolities as cosmetic upgrades. Actually, the ugliness was kind of reassuring. It hinted at a pastor who put the extra cash into the hands of the needy rather than the Glory of Rome — assuming this parish had 'needy'. Don hadn't seen much evidence of poverty in the little town yet, but he was sure he'd soon meet plenty of people willing to warn him off walking down the streets where "they" congregated. People were always very quick to do that for new arrivals.
The door ahead of him jerked and twitched a couple of times and Don plastered his most charming smile onto his face, timing it to reach its full power just as the door opened. Which it didn't. It twitched another couple of times. Clearly whoever was behind it was having a little difficulty pulling the old and probably warped door free of its frame. Don's hand was on the knob of the ugly storm door, ready to lend a bit of counterweight to the problem, when the lace curtain twitched back and the face of every parish housekeeper he'd ever known appeared beyond it. It was quite remarkable how, regardless of age, race or station, every woman who took on the role of priests's Girl Friday had the same bouffant hair, the same patterned polyester blouses — flounced at collar and cuffs — and some kind of sensible knee-length leg-covering. The woman behind the glass flashed him a smile.
"Stuck," she mouthed. "Just a moment."
She disappeared behind the lace again. A moment passed and then, with a mighty heave, the parish lady wrenched the door open.
"Sorry about that," she said. "Beautiful old buildings do have their drawbacks. It's the original door, you see. Fr Tom is quite keen to save it if we can, so I've taken up lifting weights at the Y on Saturday mornings. My doctor says it'll keep the osteoporosis at bay, too, so it's a win-win really. Come on in out of the heat."
Dan noticed with a jolt that, in this case, the lady in question certainly had the regimental hairstyle but was wearing a daring sleeveless top (synthetic, patterned) and shorts (shorts!) that fell just at the knee. How modern.
The woman ushered Dan into the dim, tiled foyer. The space had an air of stillness that he savored for a moment before following her into a bright front room, lit on two sides by tall windows in elegant wooden frames. The room was stuffed full of computer screens and printers and piles of paper all shrieking for urgent attention.
"Jean McGinty" said the name plate on the desk behind which the woman had slipped.
"So, what can I help you with?" Jean looked up from behind the piles of paper she had quickly shuffled aside on her desk.
Don twinkled at her. Get the parish secretary on your side and all will be right with the world. Another lesson he'd learned early. He checked her left hand for rings.
"Well, Mrs McGinty," he began.
"Jean, please!"
"Jean," Don said, slowly. Surely she could see he was honored to be invited to call her by her first name? "My name is Don Morris, new to this parish. Just moved in this morning in fact, and I'd never be able to face my mother again if my first stop hadn't been here at the rectory." He grinned. "I called ahead and made an appointment."
Jean made a show of pulling up reading glasses from where they hung around her neck on a beaded chain and of paging through the big paper diary on the desk, but Don had the distinct impression she knew exactly what she was going to find. There, on the page, he could see his own name in beautiful, painstaking cursive script. Number 2 pencil, if he was any judge of character.
Jean tapped the page with a manicured nail (a modest short curve, natural shade) and smiled up at Don over her glasses.
"Ah yes, I think we spoke on the phone. I remember a young man with Irish manners calling me and laying on the charm a couple of weeks ago."
"Guilty as charged," Don winked.
"Well, let's get you settled in the sitting room. Father'll be with you in two shakes of a lamb's tail. He's just back from lunch with Father Andryczyk over at St. Stephens and…well."
Her face clouded. Oh-ho, there's a story there. Don made a note but didn't press for details now. Better to broach it with the priest himself in case it was…though he hoped to God it wasn't. Funny how quickly the mind jumped to "that" conclusion these days.
The sex abuse scandal had rocked the church much more than it might appear to outsiders who only saw carefully-worded press statements by corpulent bishops on the steps of forbidding cathedrals or heard soundbites selected by ambitious reporters desperate for a ticket to the big time. It had rocked families too: civil wars over Christmas dinner when the drinks were flowing and patience grew thin ("How can you stay?!" "How can you leave?"). Don sighed and thought of Kath and the empty space in the pew next to him these past few years.
Please don't let it be that.
Jean lead Don back across the still hallway to  the sitting room, all worn-velvet armchairs and an ornate fireplace. It was a room full of faded gentility and, normally, Don would shave taken great pleasure in the sense of history in the place. But his thoughts had been polluted, his peace ruffled and he sent up a quick prayer for the will to forgive the men who'd brought this down on the church.
Jean left to get him a glass of water and he could hear her footsteps echoing on the old wooden floorboards of the old house. He tried to rekindle the sense of a fresh start as he sat alone in the room filled with who-knows what kind of memories. He was certain his glass of water would come back in a worn and scratched cut glass tumbler from a mismatched set stored in a cabinet near an elderly stove that burned pizzas on one side and left them raw on the other. He had been in enough rectories over the years to be absolutely sure of that. No matter how affluently this parish house had started out — and in this one the signs of former wealth were everywhere, from that intricate Italian tile foyer to the ornate carvings over the fireplace — he knew that everything else in the house would be hand-me-down and make-do. It always was. The surest sign of a good parish, in his experience, was a preset who saw this as the way things should be. He'd known plenty who had railed against it, requesting the parish council to sign off on upgrades and new leather sofas as if the rectory were a doctor's office.
The big question, Don thought, the thing that shapes it all, is what kind of man is this Father Tyler?
---