It is 12:37 AM. I should not be here. I should be tucked up in bed, ready to get up at an ungodly hour tomorrow and do this all again.
But at least I'm sitting here feeling satisfied (and not a little smug).
Today I had a great writing day.
It wasn't great fiction writing day, but I was working all day on the many other things writers have to do.
By 9:30 I had done a grueling workout (thanks, Joe!) and was BIC (butt in chair) reading lots of other people's opinions on Flash Fiction. (I'm writing a series on the form and need to interview lots of people. I like to be able to ask intelligent questions, so that means lots of reading).
I sent out several interviews-by-email to people who have already said 'yes' to my request, and gave the a deadline because I know what writers are like…
I organized my calendar.
I rescued my poor, ravaged website from the edge of disaster. (This has been a month of torture so you'll forgive me if I consider the six or so hours I spent wrangling it into shape this evening, time well spent). Not only did I get it working properly again, but I redesigned it to make it easier for the incoming class of StoryADay-ers to figure out where all the good stuff is and what they heck they're doing there anyway.
Check it out: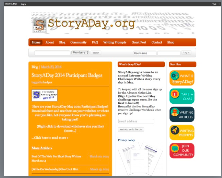 What Does All This Have To Do With Writing?
Well, no, none of this is putting words into my novel or short stories. But all of it helps me to build by network and community.
It's a lonely business being a writer.
Most of the time I'm absolutely fine with that (and frankly, most days I could do with a little more loneliness!). But there are days when your evil inner voices start telling you this writing lark is just a waste of time and money and that you should stop kidding yourself. That's when it's a great idea to have built a community of like-minded individuals who are, hopefully, having a better day than you and who either a, boost you up or b, need something from you (something in the writing line). Helping other writers, or being helped by them, is a wonderful way to remember that you're not entirely crazy. It's also a great way of guilting people into reading your work and usually they find something in it that's better than you thought it was.
So hey. No fiction words added to the works in progress, but a very satisfying day clearing the decks for when I do manage to work on the fiction tomorrow.
And that's what a writer does, some days (and nights).
Speaking of which, goodnight.