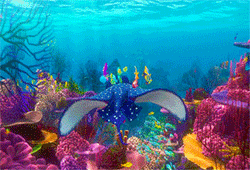 I don't often drive my kids to school but this week their dad was away and it rained a lot, so I took over that task.
Since I don't do this often, I'm not as inured to the horror of the experience as their dad is. (Apparently he rants a lot less than he used to.)
As my blood pressure inched up, I tried to figure out just what was so infuriating to me about the casual flouting of the school's rules that I witnessed every day.
Surely I wasn't so intolerant that I couldn't understand why someone might want to hold up the flow of traffic so they could let their precious angel go in the front door instead of the side door like they're supposed to. I mean, what's the big deal, right? I still have to wait behind you either way…
Here's The Big Deal
I finally figured it out this morning.
Here's the real reason I get so steamed up about people who ignore the principal's repeated requests (and big, new signs) to go down THIS lane not that one, and stop at THIS point, not some random point that makes sense to you:
Every time you drive down the middle lane instead of going around, where we've been asked to drive, you show your child that the school's principal is someone whose instructions can be ignored…by your family.
Every time you drop your kid off at the front door instead of the side door, you demonstrate that inconveniencing other people is ok, as long as it makes life a little more convenient...for your family.
Every time you double park at the gym doors and then pull out in front of me, you model to your kids that it's OK to disregard the safety of others as long as it makes life easier...for your family.
And Here's Why I Care
I care, because if you show your kid, day after day after day, that disobeying the school authority figures is OK for your family, that being selfish is OK for your family, that disregarding other people's needs is OK for your family, how do you think your kid acts inside the building…with my kid?
When the teacher asks the class to be quiet, but you've shown your kid that the rules don't apply to them, what do you think they do? Do you think about how that affects the education of my kid, who has trouble concentrating when the room is noisy? Does it matter if the teacher gets so frustrated that they assign them busy-work instead of teaching them the good stuff? Or if the teacher sends home a ton of homework because they couldn't get through everything in class?
When your kid mocks my kid down for not wearing the right shoes, and upsets him, does your kid come home and worry about that? Or do they never give it a second thought, because you've demonstrated, day after day, that other people really don't matter?
When your kids disobeys school rules and shoves my kid on the stairs, do they understand that the safety of others is important?Or do they complain to you about stupid rules and mean teachers and tattle-tale kids? And do you back them up?
Obey
We live in a society. Societies only work if we have rules that we all agree on and we follow them.
I'm not talking about slavish, stupid following-of-rules. If your kid is on crutches and you let them out at the front door, I'm not going to honk at you.
But if you just can't wait and follow the rules because your whims are more important than the principal's instructions, what message are you sending to your kids?
If you're in such a hurry that everyone else can go hang, what behaviour are you modeling to your kids over and over again?
If you put others in danger to make your morning more convenient, what is wrong with you?
And, thanks to you, I am now demonstrating to my kids that it's fine to judge people and call them names, as long as you're behind the wheel of a car.
Sigh.
I guess we all have some work to do…